Allergic reactions are caused by an immune response to contact with allergens. Allergens can include but are not limited to:
Dust
Pollen
Pet dander
Certain foods
When you come into contact with an allergen, the immune system sends out antibodies to attack what it believes to be a harmful foreign substance, even though it is benign.
Nosebleeds can be common in people suffering from seasonal allergies. They usually occur as a result of damaged blood vessels in the nasal septum. The two most common causes of allergy-induced nosebleeds are:
Let's examine each of these a little more closely.
Nosebleeds From Dry Nose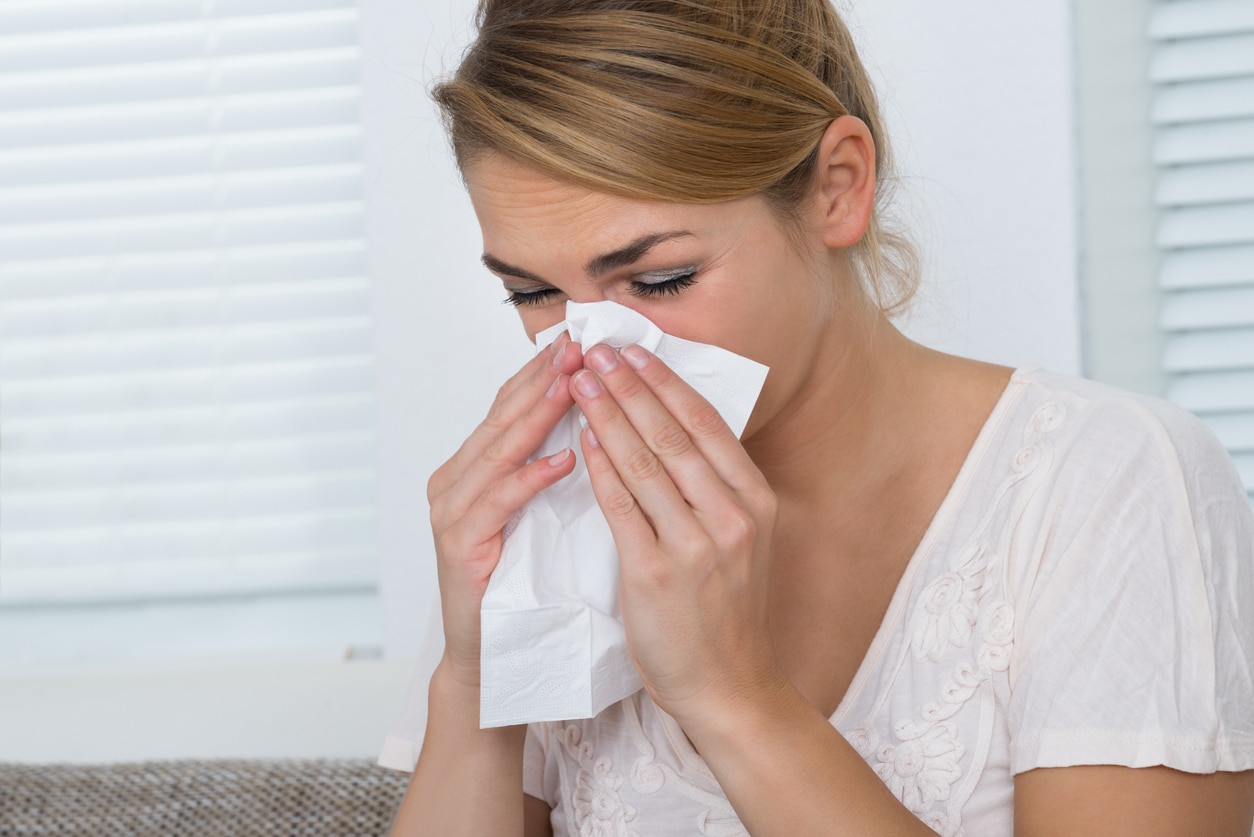 If the nasal cavity becomes too dry, the blood vessels can become damaged, leading to nosebleeds. A dry nose can come from a lack of moisture in the air, dehydration, blowing your nose too frequently or certain medications.
Allergy medication, specifically antihistamines and corticosteroids, can dry out the nasal cavity and lead to nosebleeds.
Antihistamines work by blocking the effects of histamine in your body. Histamine is a substance released by your body when it comes into contact with an allergen. While effective at reducing symptoms, antihistamines can dry out the nasal cavity and lead to nosebleeds.
Corticosteroid sprays reduce the nasal cavity's swelling and mucus, relieving symptoms of congestion, runny nose and more. A study on the risk of epistaxis (nosebleeds) when using intranasal corticosteroid sprays found that patients treating allergies with intranasal corticosteroids were at an increased risk for nosebleeds.
The humidity on a summer's day in Forest Park may help with some of the dryness, but there are additional steps you can take to increase the moisture in your nose, such as:
Drinking lots of water
Using a nasal moisturizer
Using a humidifier in the winter or on drier days
Nosebleeds From Irritation
If your allergies are causing sneezing, congestion or a runny nose, you may blow your nose more than usual. The irritation from blowing your nose can damage the nasal cavity's blood vessels.
Avoid blowing your nose too frequently, and keep it moisturized with a humidifier or nasal moisturizer spray.
Treating a Nosebleed
Treating a nosebleed is fairly simple:
Sit down and tilt your head forward slightly.
Pinch just above your nostrils for 10–15 minutes.
Check to see if the bleeding has stopped. If it hasn't, continue pinching your nose for another 10 minutes.
Because the nasal cavity and throat are connected, blood may collect in your mouth. Spit any blood into a bowl or sink and ensure not to swallow any.
If nosebleeds last more than 30 minutes, produce a greater amount of blood than usual, cause you to feel lightheaded or follow an injury, seek medical care immediately.
Contact Midwest ENT Centre today to speak to an ear, nose and throat specialist about your allergies or nosebleeds.